This is part of our Bukit Tinggi Series:-
1.DHillPines Resort @ Kampung Bukit tinggi-Bentong
2.Lunch at Greenlicious @ 10 Boulevard PJ 
3.Dinner at Restaurant Summer Park @ Kampung Bukit Tinggi 
We took a day trip to Kampung Bukit Tinggi for dinner. From Petaling Jaya, it was only a short 48 minutes drive on a Sunday late afternoon. Once we arrived at Bukit Tinggi, we took a slow drive around the vicinity and checked out a Temple and an organic farm surrounding D'Hillpines.
We were recommended by a friend to have dinner at a local restaurant, Summer Park at the town area.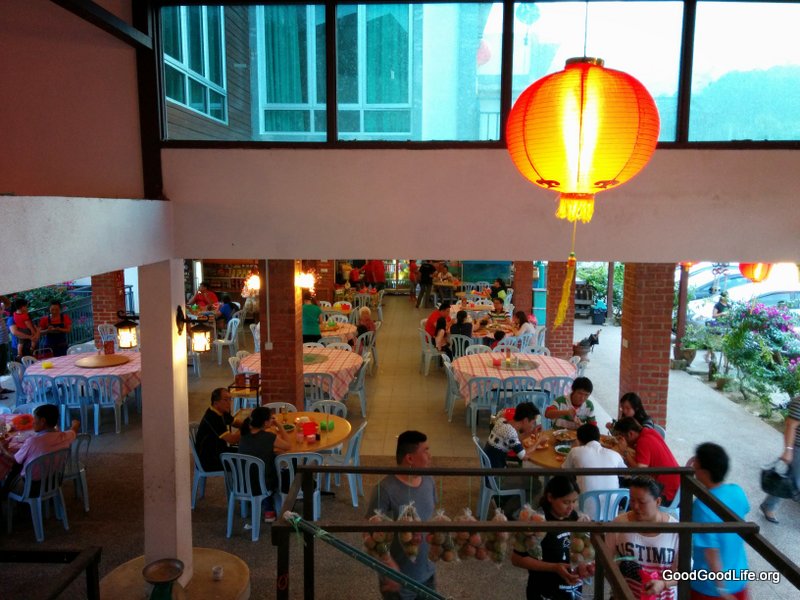 As Kampung Bukit Tinggi is famous for their freshly grown vegetables, we order a local specially 'Fa Yok' (Flower Meat) with french bean, stir fried potato leaves with garlic and Claypot Ling Yu ( Ling Fish ).
The French Bean Fa Yuk was our favourite. The dish was tasty and stir fried with sweet dark sauce. The meat was well marinated and was crunchy.The taste of it was very similar to fried bacon. The french bean was crunchy and sweet. The serving was generous and only cost RM15.
The Ling Yu fish head in claypot was interesting. It was our first time trying the fish and it was aromatic, different from the usual preparation we were used to. The fish head was very fresh.
The servings for the potato leaves was rather generous as well. The potato leaves was very young and tender and was very sweet in taste. A similar order in the Klang Valley would have been smaller and perhaps not as tender.
The bill came out to RM$42. RM$6 for the potato leaf. RM$15 for the french bean fa yuk and $20 for the fish head. We give this place a 3/5 for food. And 4/5 for value for money.