Family-friendly Fun at TCRS Chick-A-Thon!
Proceeds to go to Children's Wish Society
Celebrating 15 years of Makan Together in Malaysia, popular home-grown family restaurant The Chicken Rice Shop (TCRS) will be holding its first ever carnival-cum-walkathon on May 31, 2015.
Targeted at adults and kids of all ages, just like the restaurant, the TCRS 'Chick-A-Thon' is dedicating the occasion to bringing families and friends together to enjoy a relaxing day out in the lush greenery of The Perdana Botanical Garden (also known as Lake Gardens) in Kuala Lumpur, while raising awareness for the Children's Wish Society of Malaysia (CWS).
To participate in the walkathon, one simply has to dine at any The Chicken Rice Shop outlet nationwide and pay the entry fee of RM10 per person at the outlet before completing the registration online. Free entry is given to children under the age of 5. All entry fees from the TCRS 'Chick-A-Thon' will be donated to the Children's Wish Society of Malaysia (CWS).
Since being established in 2008, CWS has been dedicated to fulfilling the wishes of children and teenagers suffering from terminal illnesses or life-limiting diseases. Working to spread 'Smiles across Malaysia', CWS has brought joy to the young patients by helping make their deepest wishes come true, from trips to Universal Studio in Singapore to a brand new laptop or game console. The society has fulfilled more than 450 wishes across the country over the past seven years.
Wong Kah Lin, CEO of TCRS Restaurants Sdn Bhd, said, "Our 15th anniversary is an important milestone to us, for which we are grateful to our fans and patrons, whose support has helped us become who we are today. It has been our privilege to have been a part of Malaysian lives over the years, and we wanted to mark this momentous occasion by giving back to those in need, as our way of sharing the blessings which have come our way."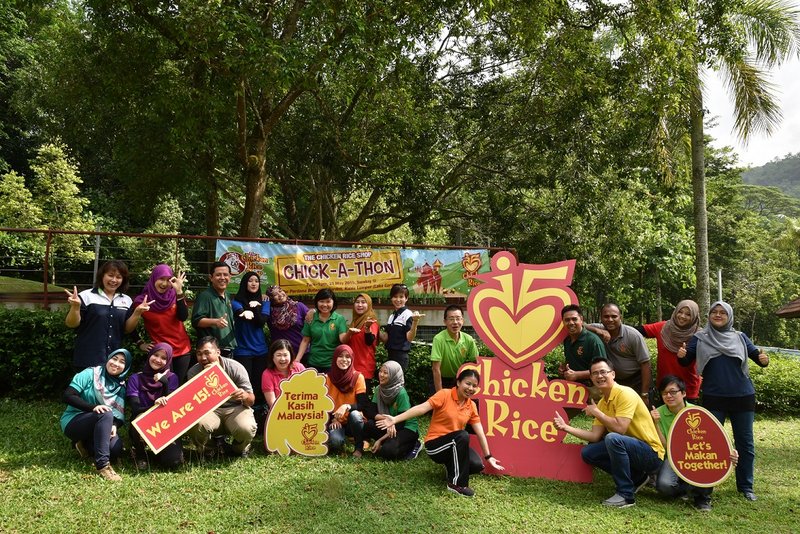 "Organising the 'Chick-A-Thon' just seemed apt as we celebrate 15 years of Makan Together, where we can have a day of simple, healthy fun for participants to enjoy together with their families and friends, and do our part for a charitable organisation like Children's Wish Society. We do hope it will be a day of fun and togethernessfor one and all."
With attractive prizes awaiting the winners of the chicken-themed walkathon, the TCRS 'Chick-A-Thon' has something for every member of the family. Adding to the fun, those who come dressed in traditional costumes reflecting the colours of Malaysia can stand a chance to win a 60" LED TV! All participants will get to take home bags of exciting goodies, not to mention enjoy delicious chicken rice from The Chicken Rice Shop, just for taking part in the merriment.
Participants can also visit the carnival where they can try their hand at various game booths and activities and treat themselves to a variety of delightful thirst-quenchers and snacks offered at food stalls by Permanis, Farm's Best and Unilever among others. Carnival-goers can now personalise their Touch 'n Go cards with photos and pictures of their choice at the Touch 'n Go booth, as well as enjoy their card reload service at no reload fee.
For more information on the TCRS 'Chick-A-Thon', simply visit www.thechickenriceshop.com. Registration is limited to the first 1,000 participants, and will close on May 17, 2015.