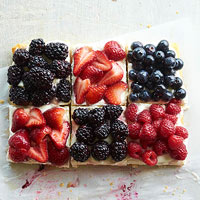 Makes: 12 servings
Prep 20 mins
Chill 2 hrs
Bake 12 mins 
Oven 375°
INGREDIENTS
Nonstick cooking spray
18 ounce refrigerated crescent dough
1/2cup honey
1/3cup water
1/4cup loosely packed mint or basil leaves
2/3cup mascarpone or cream cheese, softened
2tablespoons honey
3/4cup whipping cream
6cups berries (red and/or golden raspberries, blueberries, blackberries, and halved or sliced small strawberries), not mixed together.
COOKING DIRECTIONS
1.
Preheat oven to 375 degrees F. Line a 13x9x2-inch baking pan with heavy foil, extending foil beyond pan edges. Lightly coat foil with nonstick cooking spray. Press dough evenly into bottom of pan. Bake for 12 to 15 minutes, until golden. Cool on a wire rack.
2.
Meanwhile, for syrup, in a small saucepan combine the 1/2 cup honey, the water, and mint or basil. Bring to boiling. Simmer, uncovered, for 5 minutes. Remove from heat; let stand to cool. Strain syrup, discarding herbs. Set aside.
3.
For cheese layer, in a medium bowl stir together mascarpone and 2 Tbsp. honey. (If using cream cheese, beat until smooth, then beat in honey.) In a chilled mixing bowl beat whipping cream to soft peaks; gradually stir into cheese. Spread cheese layer on crust. Use a knife tip to mark two lengthwise lines and three crosswise lines for form 12 squares.
4.In separate bowls toss berries with about 1 Tbsp. syrup for each cup of berries. Spoon about 1/2 cup berries in each square. Cover and refrigerate at least 2 hours. Drizzle with remaining syrup, if desired.
5.Lifting foil edges, transfer tart from pan to serving platter. Serve immediately or chill up to 4 hours. Tart is best when served the same day it is prepared.