Tempting patrons with fresh and exciting flavours, or new twists on their SOULed OUT favourites, all four locations across the country will be sprucing-up six of their classic menu offerings and permanently adding thirty two new staples to cater to varied and constantly evolving customer palates.
SOULed OUT's new menu is designed to offer a fusion of contemporary delicacies that can be enjoyed anytime of the day, by everyone. Amongst some of the new additions are Spinach Melon Feta Salad, Baby Tomahawk, Portuguese Seafood Rice, Hainanese Chicken Chop, Crispy Smelt Fish, Railway Mutton Curry, and Kerala Styled Fish in Banana Leaf.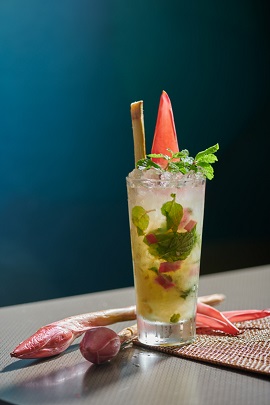 Beverage additions to SOULed OUT's line up include the Vietnamese Ginger Flower Mojito & Passionfruit Vanilla Martini; classic jumbo size cocktails like the Jungle Bird & Moscow Mule; juices like the Sea of Tranquillity, Calypso Cooler & Tropical Treasure and there are also shakes like the Sarsaparilla Surprise for those on the go.
When commenting on SOULed OUT's menu revamp, Brian Choo, Chief Operating Officer of SOUL Society commented, "As a brand, SOULed OUT has always believed in evolution. We have been around for 24 years now and I'd like to think that we are still going strong because we continue to adapt and reinvent ourselves. While still sticking to our core brand essence of being fun, sincere, welcoming and as good as a hug, we also pride ourselves in understanding the changing needs and preferences of our clientele."
The franchise is also further cementing its brand identity as a melting pot of cultures with an expanded Indian food selection curated by the talented Chef Sapna Anand who has cooked up some stunningly delicious dishes for the revamp, ranging from appetisers to main dishes.
You may recognize Sapna Anand from multiple seasons as host of the popular cooking show "Fast Indian Cooking with Sapna", as the author of numerous cookbooks, or you might have visited Goa by Sapna Anand in KL's Golden Triangle. Born and raised in India, "The Queen of Spice" is no stranger to the eclectic flavours which characterize the region's cuisine. She brings her depth of expertise and breadth of experience to the fore with fourteen new menu offerings, available exclusively at the brand's flagship outlet SOULed OUT Kuala Lumpur in Sri Hartamas beginning October 1. Over the next few weeks, these celebrity chef specials will be available at all SOULed OUT outlets, before being added to the menu permanently.
Overall, the additions to the menu are about staying current and embracing diverse cuisines that cater to a wider range of taste profiles, so no matter what customers are in the mood for, they can get it at SOULed OUT.
SOULed OUT continues to be the ideal place to unwind after a hard day's work, that offers personable service and memorable experiences. For more information on SOULed OUT and its latest offerings, visit their Facebook page at: https://www.facebook.com/souledoutkl/ and follow them on Instagram @mysouledout.