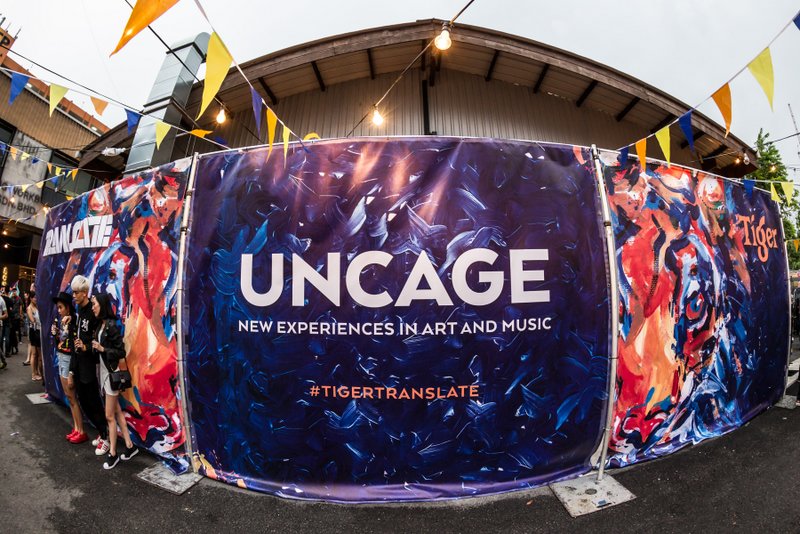 A wide array of unconventional art? Check. An amazing line-up of indie musicians? Check. Tiger Translate 2015 most certainly delivered what it promised — a bolder and edgier ensemble of avant-garde collaborations in art and music.
Doors opened at APW, Bangsar on June 13 to showcase a collection of specially commissioned art like a 2.5m tall tiger head sculpture that 'greeted' fans at the main entrance created by Thailand's Rukkit Kuanhawate, or the funky geometrically designed main bar by Hong Kong's Parent's Parents. Malaysia's Louise Low also presented a glass art installation of a tiger, while Malaysia-based Andrew T-Crum featured his contemporary canvas artwork. Artistic fans also got to throw paint-filled balloons on a huge acrylic glass made up of 80 20cm x 20cm pieces, which could be detached and taken home as a keepsake. Limited edition Tiger Translate T-shirts, with specially commissioned designs by homeboy Nicholas Choong, were also given out to the first 300 guests.
On the music front, fans immersed themselves in the diverse line-up of indie rock, electro, funk and groove by homegrown and international acts. Local band Love Me Butch appeased their fans with their popular hits, while fellow Malaysian club maestros Twilight Actiongirl got the crowd going with their no-holds-barred set list before Hong Kong's My Little Airport took to the stage.
Formed by two journalism students, Nicole Au Kin-ying and Ah P, the indie pop duo kept things quirky with their wicked "Chinglish" tunes. They serenaded fans with their whacky titled songs like Victor, Fly Me to Stafford, Tim, Do You Really Want To Make A Film?, Because I Was Too Nervous At The Time and Gigi Leung is Dead.]
The atypical evening continued with more eccentricities when Wonfu, a band that is a hodgepodge of rustic indie rock, and 60's vocal pop, took to the stage. Outfitted with humorous song lyrics distinctive of Taiwanese children's tales, this diverse and creative band — made up of lead vocalist/lead guitarist Yao Xiao-Min, bassist Twiggy, vocalist/guitarist Mami and drummer Dopy — kept the energy pumping as fans sang along to their every song.
And if there was ever a time for one to see music, UK's DJ Tim Exile and local artists, Lightforge, made that possible with their stunning amalgamation of music and art. Exile, who is a classically trained violinist, is not your conventional musician. The producer, known for developing impromptu tunes with live sounds he gathers, wowed the audience with sounds of Kuala Lumpur he recorded the day before. His spontaneous set was further enhanced by Malaysia' Lightforge, who live paints with audio-reactive generative graphics. Together, this act unleashed an immersive experience blending tightly synchronised 3D-generated visuals to Exile's recorded sounds. It was extraordinary.
Finally, British duo Laura-Mary Carter and Steven Ansell, who make up Blood Red Shoes definitely knew how to keep the spectators on their feet throughout their performance. Powerful and explosive, the pair from Brighton, England banged out a rocking set, delivering fan favourites like Cold, An Animal, and Light It Up. Blood Red Shoes most certainly left a lasting impression on the crowd.
Tiger Beer marketing manager Tai See Wai said, "From our well-received debut last year, we realised there are many art and music enthusiasts in KL. We were excited with the return of Tiger Translate, and hoped that the fans would enjoy what we had in-store for them this year.
"Judging by the remarkable response, we believe we've succeeded in uncaging new experiences in art and music. Tiger Translate looks to be headed in the right direction as a platform that pushes the envelope of creativity in the field of music and art. We look forward to doing this again."
Before the main event took centre stage, Tiger Translate kicked off with three satellite shows. In the Klang Valley, local favourites Amoura, dayDream and Reach for the Skies performed on May 27 at Laundry, The Curve; while Car Crash Hearts, Mad August and M.O.I.S.T on June 10 at Bricks & Barrels, Desa Sri Hartamas. Over in Penang, Grand Theft Xperiment, MoBeat and Ocean of Fire serenaded fans at SOHO Gastropub in Precinct 10 on June 5.
Globally, Tiger Translate has travelled through cities such as Bangkok, Dubai, Sydney, Mongolia, Cambodia, Beijing, New York, Berlin, Dublin and Auckland, where it all started a few years ago. For more on Tiger Translate and its past events, please visit www.tigertranslate.com.my