By contributor |: AC
Since July 26 KFC has been promoting the KFC Olé Olé Rice Wrap, available at their stores nationwide.
On August 18, KFC was kind enough to organize a party at KFC@theCurve and we got the chance to taste what the fuss was about.
Since we're talking about a fast food restaurant chain here, let's look at the combos before we talk about taste or brand quality.
| | | | | | |
| --- | --- | --- | --- | --- | --- |
| | Olé Olé Rice Wrap | Mountain Dew (regular) | Golden Potato Bites | Original/SpicyChicken | Damage |
| à La Carte | 1 | | | | RM5.90* |
| Combo Meal | 1 | 1 | 1 | | RM8.90* |
| Box Meal | 1 | 1 | 1 | 1 | RM12.90* |
*May vary by location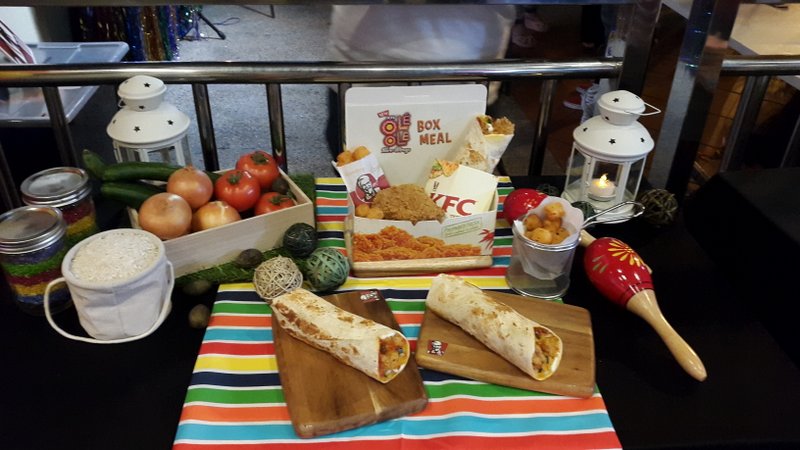 Now although the prices may vary by location, no price deviation can make this a bad deal right? Well… yes, given that it's mostly carbohydrates and vegetables. No one ordering this is looking for a greasy, meaty satisfying KFC experience; they're probably looking for the more 'vegetarian' option. And in that respect, the KFC Olé Olé Rice Wrap really does deliver.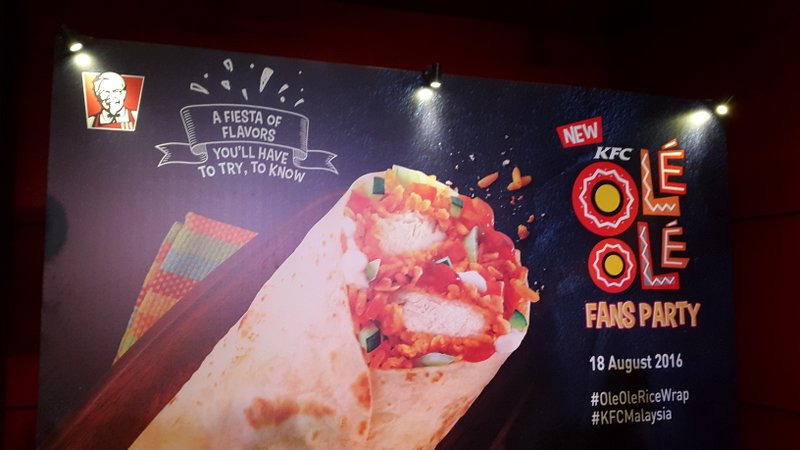 With the tagline, 'A fiesta of flavors you'll have to try, to know', the KFC Olé Olé Rice Wrap features KFC's signature zinger strips, seasoned Mexican rice, tomatoes, cucumbers (this is a novel ingredient and would really make the wrap special if it could stand up to the heat during regular operations, we'll have to see) and onions, absolutely drenched in mayo and salsa in a tortilla.
Although not in line with their regular offerings, KFC Olé Olé Rice Wrap offers good value for a filling and tasty meal, especially for those who are looking for variety.
It would however be misleading for this blog, given our name, to call it the healthier or lighter than KFC's traditional offerings, which are proven by studies in the last couple of years to be more heart healthy than wraps.
Carbs against Cardio: More Evidence that Refined Carbohydrates, not Fats, Threaten the Heart – http://www.scientificamerican.com/article/carbs-against-cardio/
By Melinda Wenner Moyer on May 1, 2010