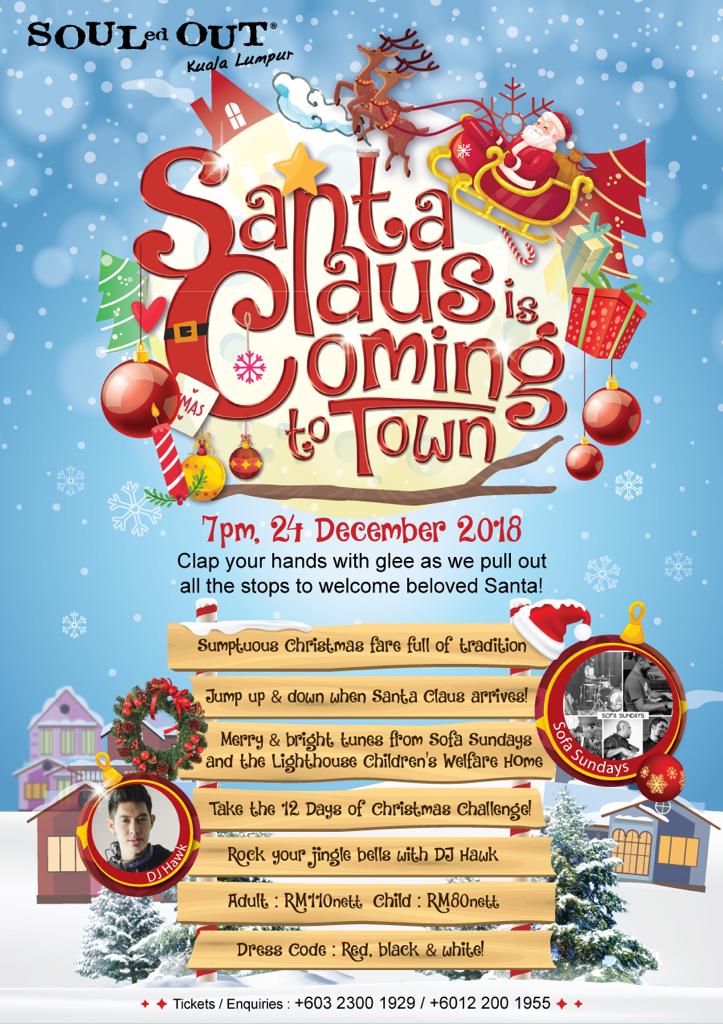 This holiday season, SOUL Society outlets will be pulling out all the stops because Santa Claus is coming to town and will be visiting with patrons across Malaysia this Christmas Eve.
Inspired by the popular Christmas carol of the same name, this year's Christmas theme will see SOULed OUT outlets holding a variety of activities and promotions throughout December to welcome Santa and put patrons in the holiday mood. 
Each SOULed OUT outlet will also be hosting its very own Christmas Eve party featuring a variety of performances, carollers and of course, SO delicious comfort food and drinks for all patrons, both loyal and new. To ring in 2019 each SOULed OUT outlet will be throwing their own uniquely themed New Year's Eve party ranging from nautical to hippie and guests will enjoy the ambiance far off locales such as the Wild West or the Polynesian Islands.
WIP @ Bangsar Shopping Centre on the other hand is eschewing tradition to shake things up for their Christmas Eve and New Year's Eve guests, throwing a non-traditional Jazzy Christmas party and organizing a naughty burlesque night to ring in the new year.
So, make your reservations or get your tickets to the end year events which most appeal,to enjoy novel and exciting experiences with friends and family at your chosen SOUL Society outlet.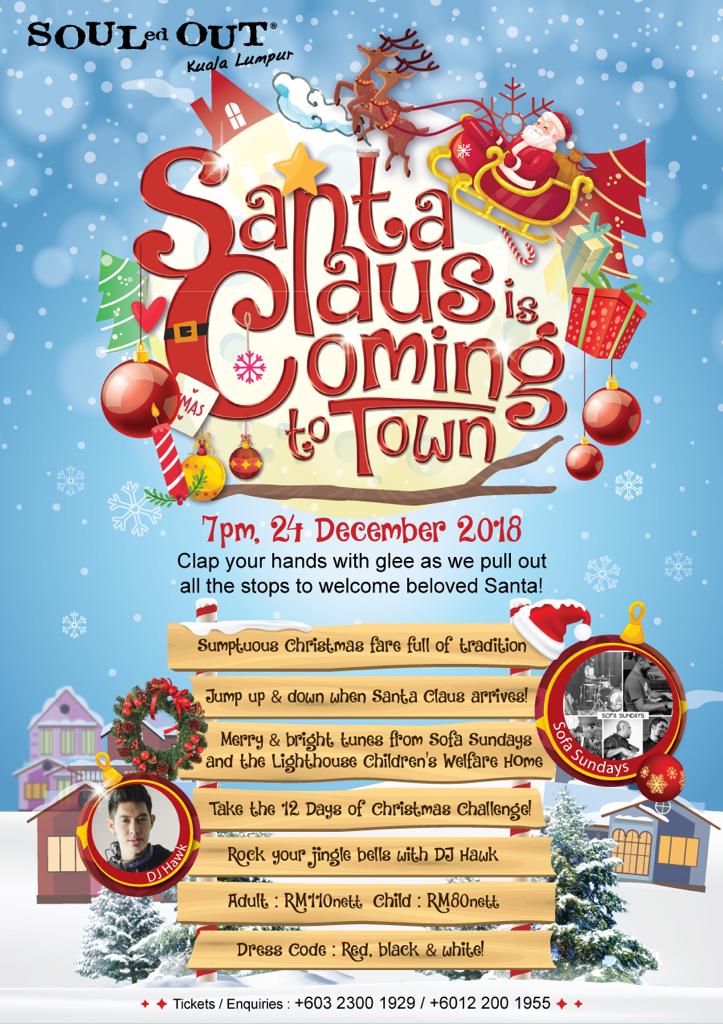 Santa Claus is coming to SOULed OUT Kuala Lumpur (Sri Hartamas)
This Christmas Eve, guests will rock their jinglebells with DJ Hawk tofestive tunes performed by Sofa Sundays and sing Christmas carols with the Lighthouse Children's Welfare Home as they eagerly anticipate Santa's arrival. Revellers can also win complimentary drinks courtesy of SOULed OUT by singing along in the 12 Days of Christmas challenge.
The entire outlet will be decked out in Santa themed décor, and guests are encouraged to get into the holiday spirit by showing up in their best red, black and white Christmas outfits. 
Tickets for Christmas Eve at SOULed OUT Kuala Lumpur are being sold at RM110 nett for adults and RM80 nett per child aged 10 years old and below, which entitles you a sumptuous Christmas buffet full of tradition and a welcome drink.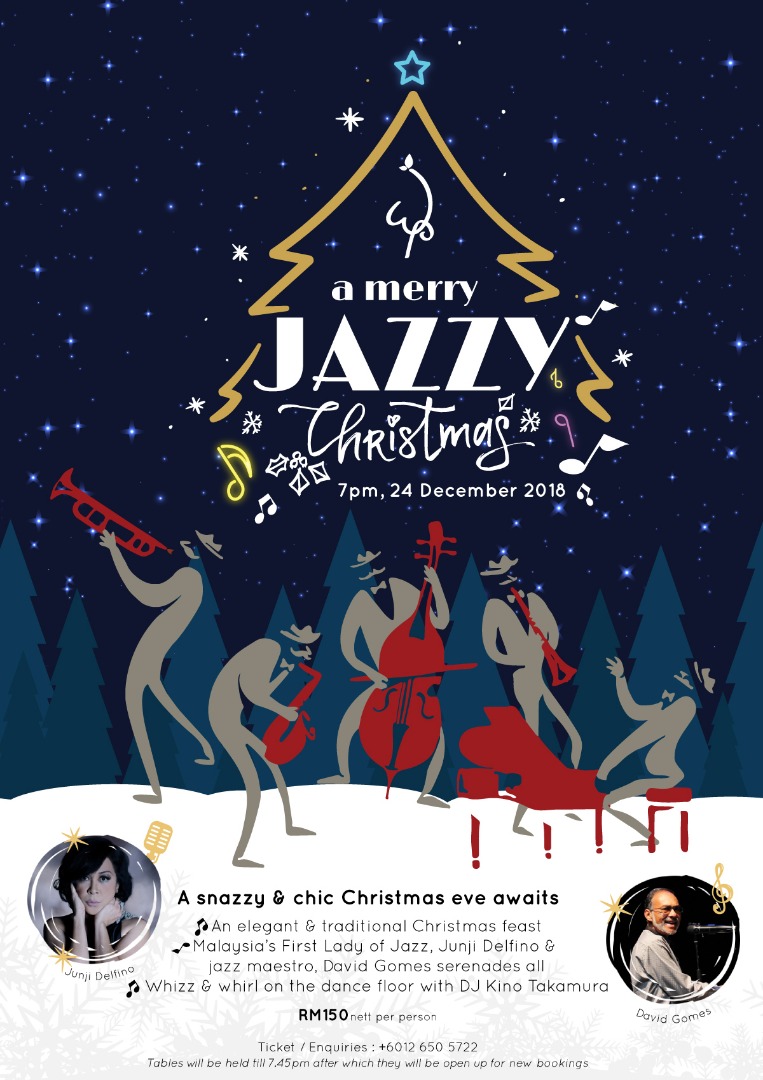 A Merry, Jazzy Christmas at WIP
WIP is celebrating Christmas Eve withamerry, jazzy party, keeping it fresh and different in typical fashion. Diners will enjoy the smooth stylings of Malaysia's First Lady of Jazz, JunjiDelfino and maestro David Gomes. Later, DJ Kino Takamura will heat up the dance floor so guests can groove down in their best cocktail chic.
Tickets for A Merry, Jazzy Christmas at WIP are being sold at RM150 nett for adults, and RM100 nett per child aged 10 years old and below, which entitles you to an elegant and traditional Christmas buffet and a welcome drink.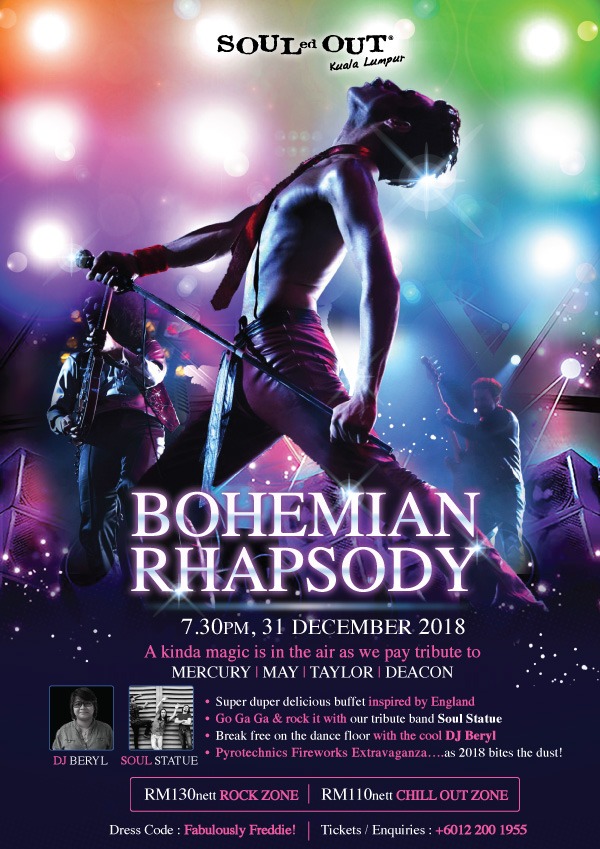 Bohemian Rhapsody at SOULed OUT Kuala Lumpur (Sri Hartamas)
There is a kind of magic in the air at SOULed OUT Kuala Lumpur as the popular neighbourhood hangout rings in the New Year with a Bohemian Rhapsody themed tribute to the British rock band Queen. Fans are also being encouraged to come dressed in the style of the fabulous Freddy Mercury to show their love for Queen.
Patrons will be rocked by championship performances by tribute band Soul Statue and break free on the dance floor to tunes by DJ Beryl. As 2018 bites the dust, to welcome the new year in spectacular fashion, SOULed OUT Kuala Lumpur have also planned an extravagant Bohemian Rhapsody countdown complete with pyrotechnics and fireworks!
Tickets for Bohemian Rhapsody at SOULed OUT Kuala Lumpur are being sold at RM130 nett for Rock Zone access and RM110 nett for Chillout Zone access. Both tickets also entitle you to our super delicious British Pub Grub buffet and a welcome drink.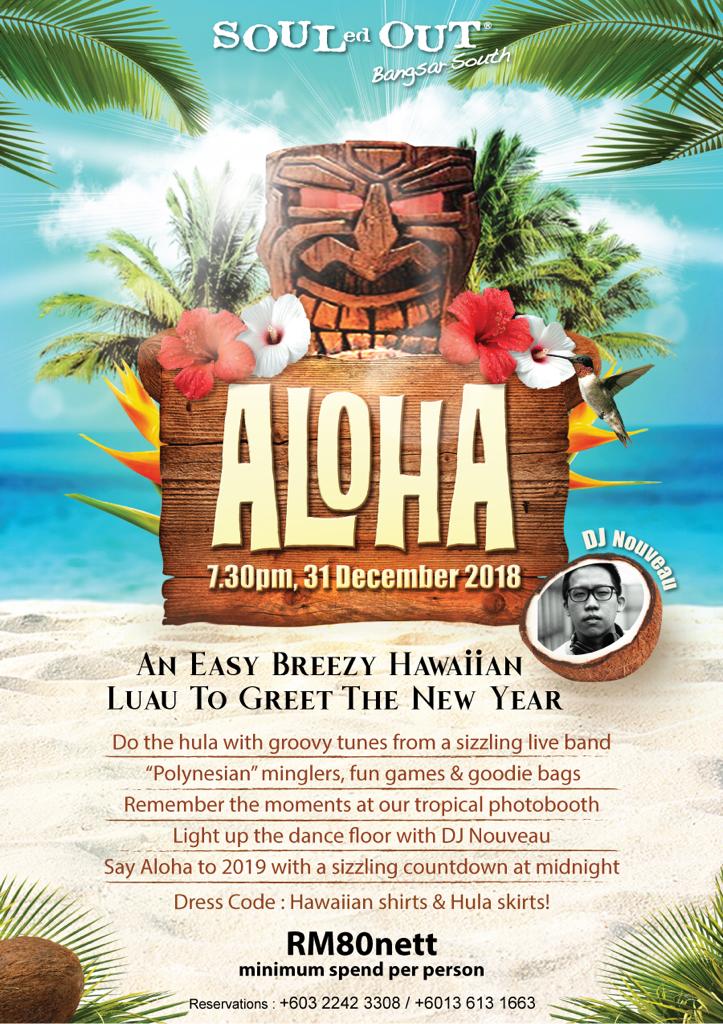 Aloha New Year's Eve at SOULed OUT Bangsar South
Transforming into a Hawaiian Paradise, SOULed OUT Bangsar South will be bidding Aloha to 2018 and 2019 as the outlet throws a spectacular Luau to greet the new year, complete with hula dancing, games and goodie bags.
DJ Nouveau will be lighting up the dance floor and guests can capture special moments at our Polynesian themed photobooth. Partygoers are encouraged to come in their best Hawaiian shirts and hula skirts and join us for a sizzling countdown.
Minimum spend applies at RM80 nett per pax.
For a chilled out New Year's Eve, the Don't Worry, Be Hippie party at SOULed OUT Ampang will have you flower powering all the way into 2019. Tickets are RM80 nett and are inclusive of apsychedelic buffet dinner, featuring SOULed OUT's greatest hits.
So put on your best tie dye or flower power threads and prepare to space out with live beats from the band EPYKS and get your groove on with DJ Raven as we ring in the new year at SOULed OUT Ampang.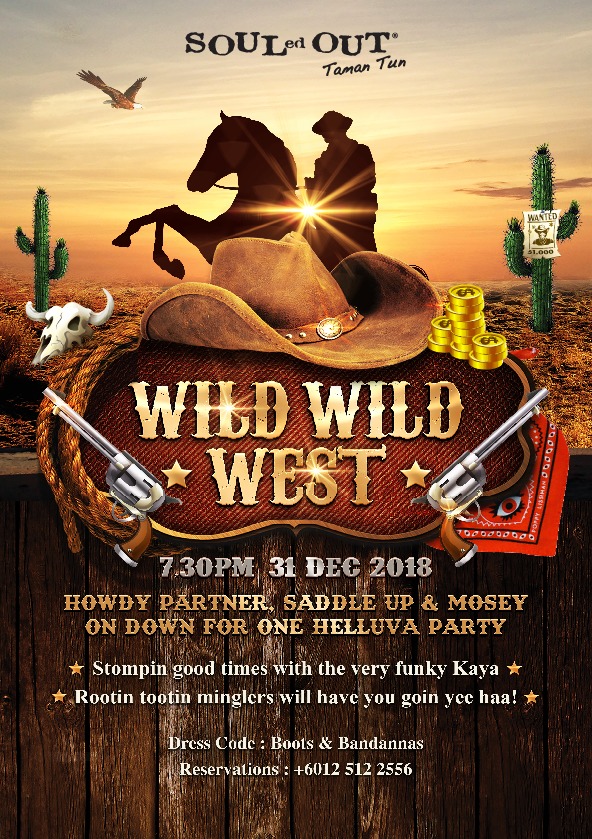 WANTED: WILD WILDPARTYGOERS @ SOULed OUT Taman Tun
SOULed OUT Taman Tun is transporting revellers to the Wild Wild West for a very special New Year's Eve. From old-timey carnival games and performances by the SO Gaya Dancers, folks can enjoy the ambiance of the old west as they are serenaded by the band Kaya. Reservations are currently open with no minimum spend required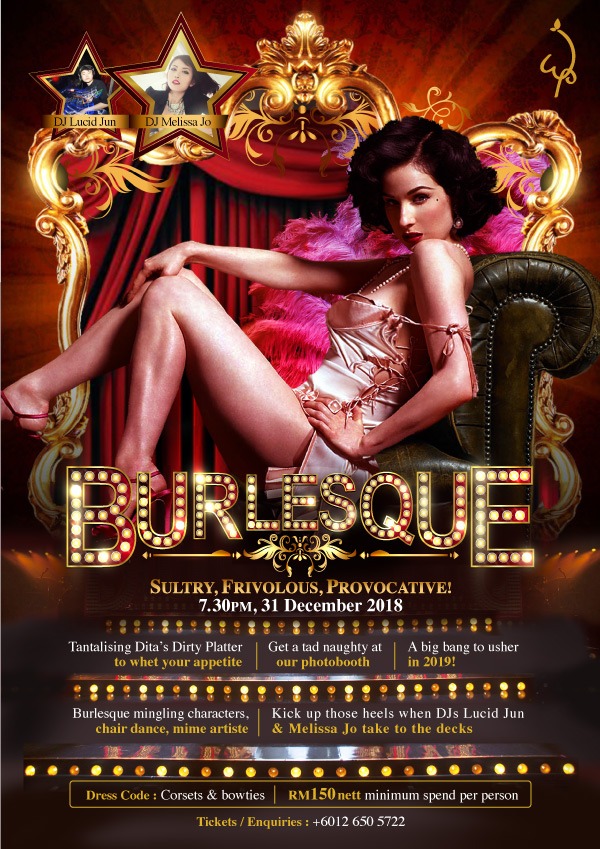 Burlesque News Year's Eve at WIP 
Don your corsets and bow ties and join us at WIP for a sultry, frivolous and provocative evening this New Year's Eve. Make memories at the naughty photobooth and you mix it up on the dance floor when DJs Lucid Jun and Melissa Jo take to the decks. Burlesque performances will keep diners entertained as WIP closes out the year with a big bang to usher in 2019.
Minimum spend applies at RM150 nett per pax.