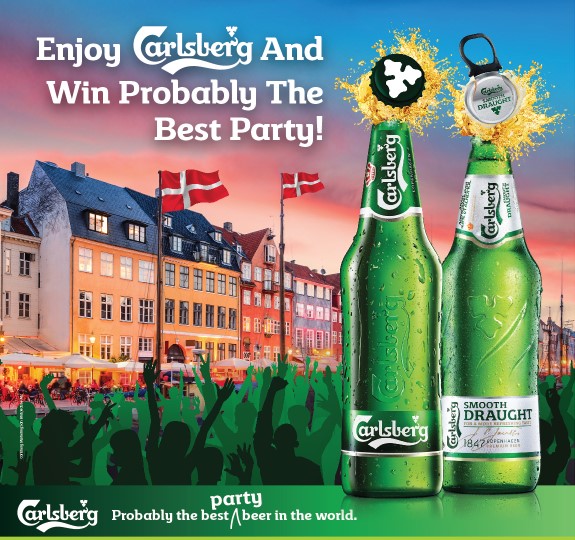 Win an all-expense paid trip to Copenhagen with your friends OR host 'Probably The Best Party' of your choice ALL on Carlsberg!
Ending the year on a high note, Carlsberg is rewarding three consumers with "Probably The Best Party" trip to enjoy with five buddies each in Copenhagen, Denmark; and fifty consumers get to host a private bash here in Malaysia for 80 friends, compliments of Carlsberg!
Enjoy Carlsberg or Carlsberg Smooth Draught with your beer buddies and you could be lucky winners of Carlsberg's "Probably The Best Party" promotional campaign, which runs until end November 2018!
Grand Prize winners will get to experience an all-expense paid trip to Copenhagen, Denmark as they tour the grounds of Carlsberg's origin with five of their buddies. It's going to be an unforgettable one as the trip will take place in December, during winter!
The 50 First Prize winners will each get to 'ex-beer-ience' an amazing and unforgettable night where they get to choose a base within the participating outlets/venues to hold their awesome bash with five choices of preferred themes – Oriental, Kollywood, German, Sports or Karaoke. To top it off, the food, beers and entertainment are exclusively customised for contest winners courtesy of Carlsberg.
"The Carlsberg brand has enjoyed enormous success this year from "Probably The Most Victorious Year" campaign in conjunction with Chinese New Year; "Probably The Best Football Beer" campaign, the launch of Carlsberg Smooth Draught's POP cap, to "Probably The Best Oktoberfest" consumer promotion. Building on this momentum, we have set the bar higher by launching "Probably The Best Party" campaign nationwide to reward our beer consumers," said Lars Lehmann, Managing Director of Carlsberg Malaysia. The trip to Copenhagen will be an experience to remember. Coinciding with winter, the most wonderful time of the year, it will be full of festive, fun and joy with planned city tours and pubbing to liven up the spirits. While the private bash in Malaysia will be an extraordinary and memorable event for the winners as they get to party with 80 friends at a chosen venue within the participating outlets and have a choice of five themes to choose from – Oriental, Kollywood, German, Sports or Karaoke – to revel the night away!
Get over to participating outlets now to enjoy Carlsberg, "Probably The Best Beer In The World" or Carlsberg Smooth Draught, "Probably The Smoothest Beer In The World", and get closer to winning the ultimate trip of a lifetime or hosting the greatest shindig ever!
Remember to check the inside of the bottle caps (on all big bottles) when you enjoy Carlsberg or Carlsberg Smooth Draught at participating coffee shops and food courts. Likewise, if you are having beer nights with your buddies at participating bars and pubs, get your Gift Cards for a chance to win!
For those getting beers from supermarkets, hypermarkets and e-Commerce platforms, you too can stand to win these exciting prizes. The Gift Card is located on the inner panel of the Carlsberg or Carlsberg Smooth Draught 6-can pack. For purchases at convenience stores, you'll be entitled to a Gift Card for purchases worth RM15 and above.
Furthermore, there's also the limited-edition Carlsberg bottle-shaped power bank up for grabs! Just collect 18 Carlsberg or Carlsberg Smooth Draught bottles caps marked with "Hop Leaf 2018" or collect points via the Gift Cards received from participating bars and pubs in order to redeem a unit.
Don't miss out on this grandiose once-in-a-lifetime party experience all for FREE on Carlsberg! All you need to do is ENJOY Carlsberg and be on your way to party with your friends! For more info, follow us on
www.facebook.com/CarlsbergMY or visit www.probablythebest.com.my