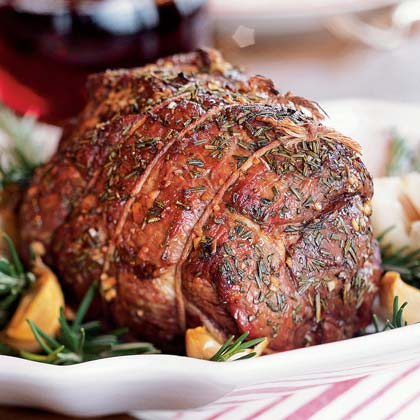 This lamb roast is seasoned with just a simple rub of rosemary and garlic; sprinkle the lamb with coarse salt after removing from the oven to really accent the flavors. Serving for 8 people.
1 (3-pound) rolled boned leg of lamb, trimmed
1 tablespoon chopped fresh rosemary
3 garlic cloves, minced
1 teaspoon kosher or sea salt
Preheat oven to 450°.
Secure roast at 1-inch intervals with heavy string. Rub surface of roast with rosemary and garlic. Place roast on the rack of a broiler pan or roasting pan; insert a meat thermometer into thickest portion of roast. Bake at 450° for 1 hour and 15 minutes or until thermometer registers 140° (medium-rare) to 155° (medium).
Sprinkle with salt. Place roast on a cutting board; cover loosely with foil. Let stand 10 minutes. (Temperature of roast will increase 5° upon standing.) Remove string before slicing.