Guinness Anchor Berhad (GAB), the leading beer and stout brewer in Malaysia kicked off its month-long Oktoberfest celebration today at Tujo Bar-serrie at Ascott in the heart of Kuala Lumpur. GAB's Oktoberfest campaign was officially launched after a reenactment of the royal wedding between Crown Prince Ludwig and Princess Therese that was held in Munich in 1810, which gave birth to the Oktoberfest celebrations held worldwide today.
 At the launch event, Hans Essaadi, Managing Director of GAB shared, "Oktoberfest has historically been a time of celebration and merriment amongst family and friends, featuring good food, great beers and an all-round unforgettable time. This year, GAB has planned even more exciting and engaging activities and I am confident that with our award-winning portfolio of beers, we will once again set the standard among our loyal consumers for providing drinking experiences that are both fresh and engaging."
As the fifth year running that GAB is organising this globally-renowned celebration in a big way right here in Malaysia, this year's Oktoberfest celebrations will include a series of 14 historically themed parties nationwide, special promotions featuring a special edition 1 litre Ceramic Oktoberfest Mug and GAB's entire portfolio of award-winning beers, including the original Paulaner Oktoberfest Bier.
 "We at GAB are especially proud to continue making the Paulaner Oktoberfest Bier available for our consumers, which is one of only six beers allowed to be called an official Oktoberfest Bier and served on Oktoberfest. Be sure to try out this distinctive, limited edition lager at the selected outlets offering it during our Oktoberfest celebrations," said Essaadi.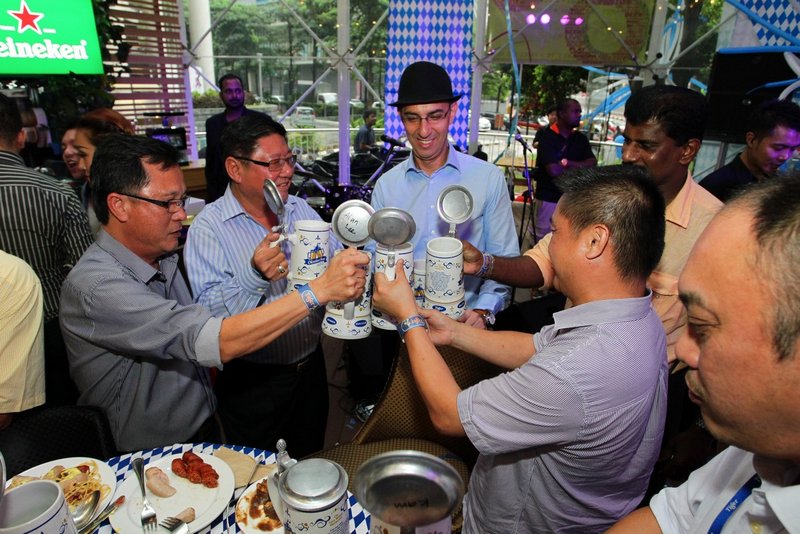 During the launch event, guests were able to sample authentic German Oktoberfest cuisine, as well as traditional Oktoberfest activities including traditional German folk dances, beer mug holding competitions and 'Nail the Wood', a traditional German game which requires participants to have both power and accuracy. Adding to the celebratory air was the presence of Crown Prince Ludwig, Princess Therese and their royal procession who brought a historical touch to the event. The royal entourage regaled participants with interesting tales from times long past.
During the month-long Oktoberfest celebrations, consumers will be able to enjoy:
– Oktoberfest Nationwide Consumer Promotions 
A 1 Litre Ceramic Oktoberfest Mug filled with your favorite GAB brew, whether it's Tiger, Guinness, Heineken, Kilkenny, Strongbow or Paulaner this entire month from 7th October to 3rd November at participating GAB outlets across the country. The best part of this promotion is that the first refill of your 1 Litre Ceramic Oktoberfest Mug is absolutely free! Now that's what you call an Oktoberfest promotion.
Oktoberfest Outlet Events
GAB will be bringing the Oktoberfest celebration to consumers across the country through a series of 14 themed parties at popular watering holes nationwide. The parties will be centred around different aspects of the Oktoberfest celebrations, whether it's the royal wedding, the celebration of traditional German cuisine (also known as 'Schmankerl') or the iconic Oktoberfest parade and carnival. At each of these events, attendees can expect an evening filled with good food from around the world, the original Oktoberfest beer, a limited edition Oktoberfest Mug with metal lid and of course exciting activities and contests with fun prizes. So be sure to pop by GAB's Oktoberfest celebrations at the following locations throughout the month of October: –
10th October at Souled Out Sri Hartamas (KL)

12th October at QEII (Penang), Geographer Café (Puchong) and Jonker Street (Melaka)

14th October at Euro House (Ipoh)

18th October at Festival Walk (Ipoh) and Laundry Bar, The Curve (Mutiara Damansara)

19th October at Upper Penang Road (Penang) and O's Corner (Kuantan)

24th October at Remedy House, Scott's Garden (KL)

25th October at Danga Bay (Johor) and Phat Barrels (Kuantan)

26th October at The Museum (Ipoh)

31st October at Beer Factory Sunway Giza (KL)